Google Cardboard showed up at the door today. I bought the DodoCase, and the first impression is that the cardboard could be a little thicker, but all in all it's a pretty well constructed kit. We're really interested in the quality of the lenses, and I'll have more on that as the process continues. I'm planning on using this with the iPhone, so I might have to overcome a few obstacles, but none of which I'm too concerned about.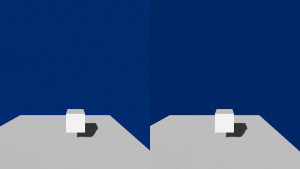 In Unity3D, I created a quick scene with two cameras, and connected them up to the gyro/mag of the iPhone and it didn't take long before I had a working demo. The field of view is much smaller than that of the Oculus Rift. I first thought that might be a bad thing, but after using it for awhile I didn't get 'sim sick' (and I usually do).  The disconnect of the user from having a full immersive field of view could be a positive in not getting 'sim sick'.
More testing to come.
~Pat