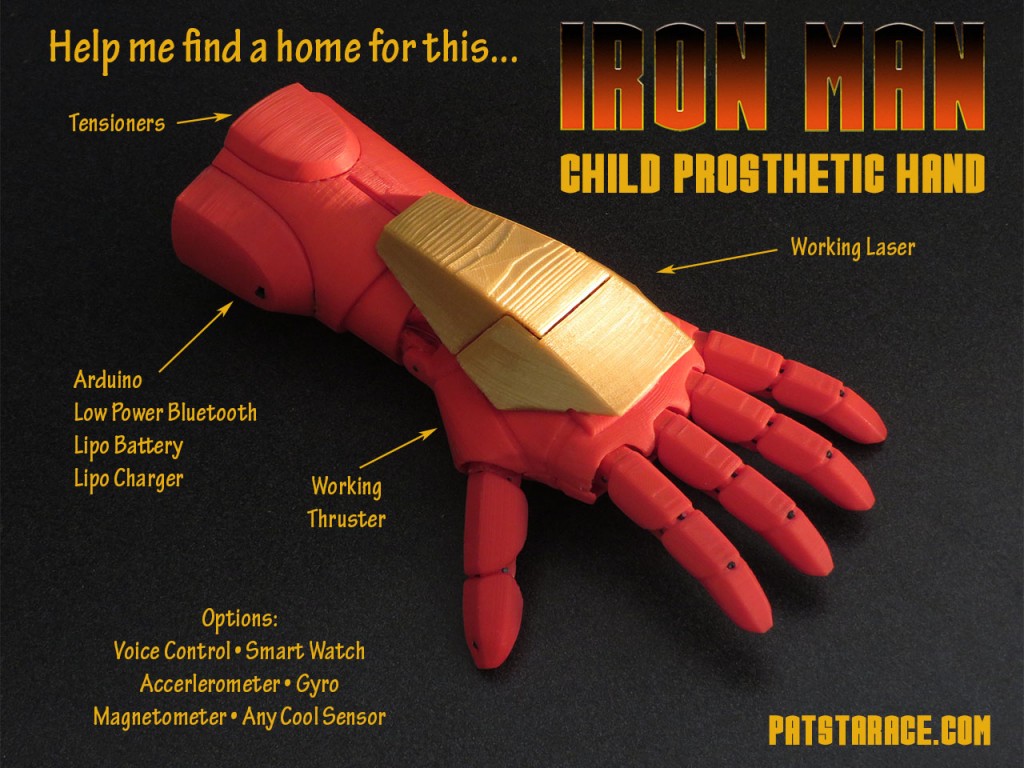 IRON MAN 3D Printed Child's Prosthetic Hand.
How can we help a child that faces everyday challenges with a disability? My answer is to give them the most awesome prosthetic hand, and raise their self esteem to Super Hero Levels. The vision was to create a hand, so that a child can have something that solves a mechanical challenge, is affordable, and mostly Looks Awesome!
Design goals:
1) It had to look awesome
2) It had to perform awesome
3) Hide all the strings, so nothing distracts from the magic.
Thank You,
Your pal,
Pat Starace
(The mechanic)
I'd love to be part of a Research & Development Group that's shaping the future.
 My Goal is to give this hand in the video to a child  for FREE, and collaborate with e-Nable a group that advocates for 3D Printed Prosthetics. .
REQUEST THE IRON MAN HAND HERE
If you're a kid or a parent of a child that needs this, please contact me
Requests have been streaming in, and I will reply to everyone.
Articles:
Laser Beaming, Thruster Equipped 3D Printed Iron Man Kids Prosthetic Hand – Full Length Story - 3DPRINT.COM ( This was my first article. It's in-depth and complete with much info)
3D Printed Prosthetic Hand Turns Kids Into Iron Man – KGW.COM () (THIS IS A MUST WATCH - Portland TV News did an AMAZING What's Trending Cover Story)
3D Printed Iron Man Child Prosthetic Hand – CNET Tomorrow Daily Video Review (ANOTHER MUST WATCH) Thank you Ashley Esqueda and Rich DeMuro.
Artificial Hand Makes Kids Feel Like Tony Stark - KOTAKU.COM
3D-Printed-Prosthetic-Iron-Man-Hand-Not-Grown-Built/ - CNET.com
3D-Printed-Prosthetic-Makes-Kids-Feel-Like-Iron-Man/ - ATMEL CORPORATION
3D-Printed Prosthetic Hand Could Make Kids Feel Like Iron Man - MASHABLE.COM
Iron Man Hand Will Make Kids Feel Like SuperHeros – GIZMODO.COM
3D Printed Goes Hand In Hand With Iron Man Inspired Prosthetic – HACKADAY.COM
3D Printed Prosthetic Hand Lets Kids Feel Like Iron Man – 3DERS.ORG
3D Printed Iron Man Will Make Kids Feel Super – WASHINGTONPOST.COM
Tech Info:
How long did it take? It took me a little over a month from start to finish. I started by modeling the hand in Maya, and ZBrush using a Wacom PL500, the geometry was then imported into Solidworks for surfacing, mechanical design, assembly, and simulation. It was then output as a series of .stl files.
People have been asking what type of printer I used.
Printer: Bukobot Vanilla V1
Extruder: Budaschnozzle 2.0c w/ 0.35mm nozzle
Filament: Makergeek ABS 3mm Red/Gold
Extruder temp: 230c
Bed temp: 110c
Print speed: 40mm sec, I could go much fast, but wanted to play safe.
Repetier Host was used for short prints.
Pronterface was used for longer prints using the SD Card.
Slicer: Cura
.