After reading the many touching requests for the 3D Printed Iron Man Child's Prosthetic Hand a perfect child was found. 12 hour drive to Texas, it was given to Tyler for his Eighth Birthday. Seeing Tyler put the Iron Man Hand on and light it up, and the huge smile on his face made this the best day ever.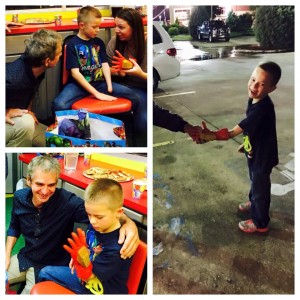 Tyler was soon High-Fiving, and shaking hands.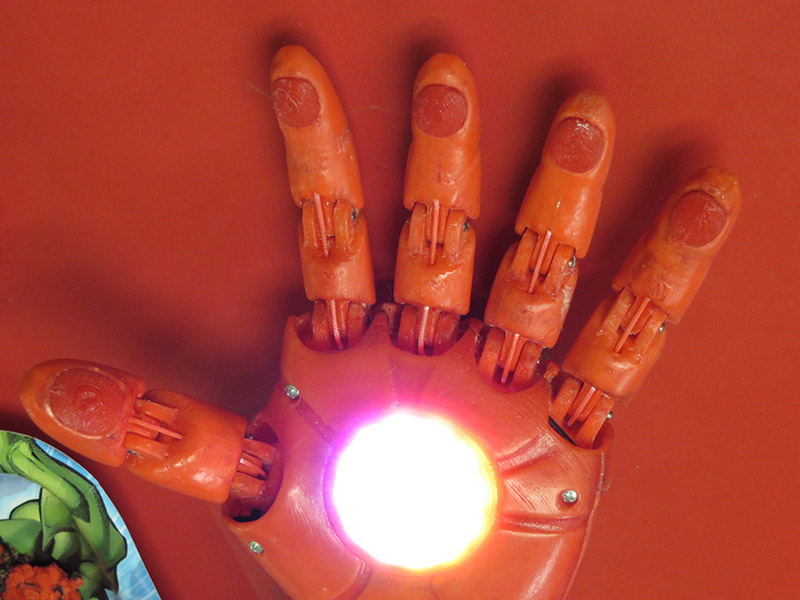 The Iron Man Hand was custom designed to fit Tyler, and a few cool features were added including NinjaFLEX Finger Tips for Super-Hero Grip.
The build process faced many challenges, Tyler's hand required a 90% reduction from the original prototype I created. Scaling down 90% sounds easy, but not so quick. While scaling down the 3D Printed parts for the hand wasn't too big of an issue, the electronics don't scale with the hand. I had to rework the design and scale up the electronics in CAD, so that when I scaled down the hand model the electronics would be the appropriate size.
The FIRE! One week before delivery, I noticed the stepper motor mounts for the 3D printer starting to tilt. WHAT! The steppers were overheating and the mounts were melting. I stopped the print and went into damage control. I thought if I just tightened up the belts, I could finish this up and deal with new mounts later. While tightening up the belts (I wasn't near any electronics) I saw something bright out of the corner of my eye. The controller was on FIRE! I blew it out, and it came right back. I blew it out, and it came right back again, so I pulled the plug. It was a driver board on the controller that had given it's life for this noble cause. I had a spare and crossed my fingers that the controller wasn't fried. This seemed to work, but I knew the controller was probably compromised and might not make it to the end, but thankfully it did. (Thanks Deez).
Finishing was another story, but I'll leave that for another time.
IT HAD TO LIGHT UP!!! We left at 3:00am for a 1,200 mile drive to Texas, and with the time zone difference we would gain an hour. We would be cutting it close but we were up for the task. Did I mention that the electronics weren't finished yet. I had promised myself that Tyler would be able to put the Iron Man Hand on and 'Light It Up', and there would be no compromise. So, while driving through Louisiana I took out my butane powered micro torch/soldering iron, and started to solder up the hand while we were driving on I 10. I was soldering as my friend Dan was driving and calling out "Bump" every time we would run over a seam in the road. These are 30 gauge wires we're talking about, and for those of you that unfamiliar with the term, it's pretty small. After a couple of tedious hours, the Iron Man Hand "Lit Up", was complete and ready for deployment to Iron Kid.
What made me want to spend the hundreds of hours to creates this? The answer is simple, I wanted to help a child. Tyler is an AMAZING Young Boy, and I look forward to continue development of the Iron Man Hand with Tyler, and his awesome family.
~Pat Starace